This section will hopefully aid in carburetor bonnet identification, and covers not only the bonnets that were available during the fifties, but also modern versions. Where possible I've tried to detail the application and assess the suitability for that particular application. If you know of and/or have any pictures of any other bonnets that could be used in conjunction with a McCulloch please let me know.
The question of what constitutes an ideal bonnet has been raised many times. Current opinion (from the Blow Thru Turbo Yahoo groups) seems to indicate that bonnets with large plenums, and an inlet which is high above the carb throat produce more power – presumably by dropping less pressure and/or reducing turbulence at the carb throat, however in reality installation constraints (mainly clearance) tend to dictate the carb bonnet used.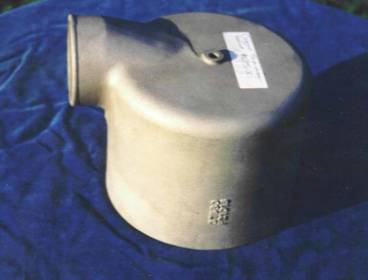 1955/56 Ford Holley Four/Two Barrel
This McCulloch bonnet carries part number 37580 F21016 and fits the mid fifties Ford Holley four and two barrel carburetors. These carbs have a 5 1/8" flange however the lip of the bonnet is too wide to allow it to be used on similar sized carbs such as the Carter AFB. When matched up to the AFB the bonnet interferes with the accelerator pump.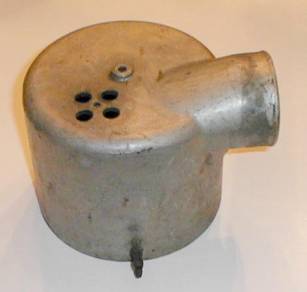 1955/56 Ford/Mercury Holley Four barrel
McCulloch part number 37579. This differs from the 37580 bonnet pictured above in that it has a flapper valve to allow release of gasoline vapours when the engine is turned off in order to eliminate hot start problems. This bonnet was the one supplied with the 1955/56 Ford and Mercury installation kits for four barrel applications. Apart from the flapper valve the bonnet also features two stacked nipples, one is to for boost referencing the distributor, as the mid fifties Fords used a dual vacuum advance distributor, and the other is for boost referencing the secondaries control diaphragm.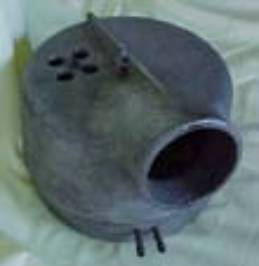 Early Lincoln/Mercury Holley
This came in two parts, the upper part has the McCulloch part number 37472 and the lower part has the number 37441. The upper part features a flapper valve and a gasket was used between the two housing parts. The lower part of the housing features two nipples and presumably has a narrower diameter for clearance purposes. I suspect that it was more efficient to cast this housing is two parts rather than making a single casting. As far as I'm aware this bonnet mounts to carbs wth 4 1/4" flanges and was used on 1954/55 Lincoln installations, and 1952 to 1954 mercury four barrel installations as well as some Ford Truck installations. Again two nipples are attached to the bonnet for boost referencing the distributor and the secondaries.
Holley Four/Two Barrel
Origin unknown although it's believed to be McCulloch. An unusual bonnet in that the pressure input is center mounted which gives it a lower profile than the standard Holley bonnets. This was probably also used on mid fifties Ford Holley four and two barrel carburetors although I'm not sure of the size of the mounting for this bonnet.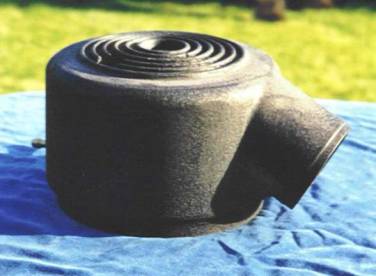 Holley four barrel
Holley seems to have been well served with carburetor bonnets as you've probably ascertained by now. This variant, numbered FT-119 (FT-119B has a nipple for pressure gauge attachment) was used on 1957 Ford, 1956/57 Lincoln and all Thunderbird VS57 installations due to the low hood clearances available. Again clearance issues would arise if this was used for carbs other than Holleys, although it does have a 5 1/8" diameter mounting aperture. As can be seen this bonnet has a much lower profile than the standard Holley bonnets as well as an air inlet which is pointed down at an angle to allow connection to a lower mounted supercharger. This particular bonnet appears to be powder coated, although normally they have a matt or polished appearance.
McCulloch part number C-119 used on Carter WCFB (also early AFB?) and Rochester installations, shown in its two major incarnations. Strangely enough McCulloch seemed to have used the same part number for the two subtly different bonnets. These bonnets, which were designed for 4 ¼" flange carburetors were used on Buick, Cadillac, Chevrolet, Chrysler, Dodge, Mercury (Carter WCFB), Oldsmobile, Plymouth, Pontiac and early Studebaker installations. Some installations used a spacer of between 1 inch and 2 inch height between the bonnet and carburetor to provide clearance. The C-119B variant is the same except that it has a nipple the side to allow a pressure gauge to be attached. Similarly the C-199C variant is the same except that the nipple is opposite the air inlet for the bonnet.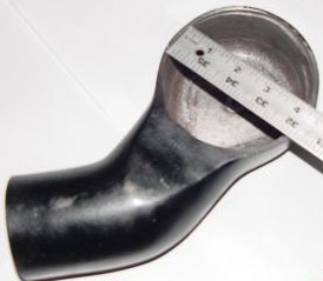 Extended C-119
Unusual and rare extended C-119 variant designed for 4 ¼" flange carburetors and with a 3" diameter aperture for connection to the boost output from the supercharger. I've no more information on this one I'm afraid and it's the only one of its kind that I've seen.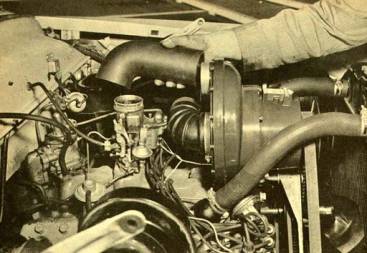 Two barrel carb bonnet
Although it looks remarkably like a piece of hosing this the bonnet used by McCulloch for all two barrel carburetor installations with the exception of the 5 ¼" flange Holleys used on the 1954 to 1957 Fords.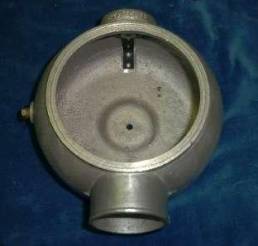 1957 Ford Bonnets
A section on bonnets wouldn't be complete without featuring the Ford bonnets used on the F code Y Block engines. These feature 5 ¼" mounting apertures, a flapper valve, a plugged tap for pressure gauge connection, and are very application specific in that their size would probably prohibit their usage on non Ford Holley applications. Ford part number was # EDB66542A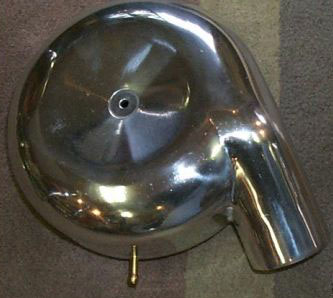 McCulloch 1957 Ford Bonnet
These were supplied with the McCulloch VS57 kit for 1957 Fords (and possibly with other kits although the angled intake does limit possible uses) and fits the 5 1/8" flange Holley 4150 (and possibly Carter AFB) carburetors. I'm not sure why McCulloch produced a kit for the 1957 Ford, especially when you consider that Ford was installing superchargers at the factory, however I do have evidence that this was the case. Interestingly this bonnet looks to have a deep flange inside it which in my mind would cause a pressure drop at the carburetor. Presumably this was required though, maybe to shield the jets from direct boost pressure.
A very sexy finned dual bonnet, origin unknown. This is attached to a pair of Carter WCFB carbs mounted on a Ford Y Block 2-4 intake (possibly Fenton). The bonnet has 4 3/32″ ID throats spaced 8 15/16″ apart which means that they are not suitable for standard Y block 2-4 intakes which have carb spacings of 7 1/4", although the intake in the picture does look like a factory Ford intake as it has a raised thermostat housing, posts for coil mounting, and a throttle mounting bracket layout the same as the factory 2-4s. Maybe someone can help identify this intake. McCulloch actually produced two dual carb bonnet intakes, CO-119B for the Corvette and CR-119B for the Chrysler, but unfortunately I have no pictures of either. It's possible, but unlikely, that the bonnet in the picture is one of these, but I'm inclined to believe that it was either made by Morco Engineering of California who made carburetor housings and brackets for the McCulloch, or made by Fenton.
Unusual dual carburetor bonnet believed to have been made by McCulloch although the application is unknown. The part number on the bonnet is C.11545 which is a McCulloch number and it is designed for carbs which are spaced 8.125″ apart. The carb flanges are very small and going by the size may have been to suit single barrel carbs (or possibly sidedrafts). The flanges are machined to 2.725″ inside diameter and look to be made to push down onto the carb top around a rubber seal. The actual holes into the bonnet for the air to pass into the carbs are only cut out to 1.977″ diameter which is more of a single barrel carb size. The flange the blower duct connects to is 3.125″ outside diameter. Mid point on the opposite side to this inlet there is a 3/8″ stud for what I presume to be a hold down bracket to keep the bonnet down snug against the carb tops. Thanks to Ted Robinette for sending me this picture and the measurements. If anyone knows any more about this bonnet both Ted and myself would appreciate the information.
Studebaker Avanti R2 Bonnet
The early sixties Studebaker Avanti R2 engine option used this bonnet which featured a 4 ¼" carb aperture and a flapper valve. These were used in conjunction with factory pressure sealed AFB carburetors (with small mount) coupled with Paxton SN60 superchargers, and reproductions are generally available from the Studebaker dealers for something in the region of $100. The Studebaker part number for these bonnets is 1556953. A slightly different variant of the bonnet was used on the 1963/64 Lark or Hawk with the R2 engine option, this had the air inlet offset and carried the part number 1557950.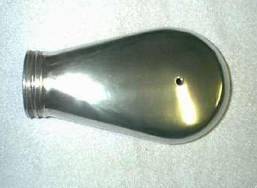 ATI Procharger Bonnet
A modern bonnet manufactured by ATI and supplied with Procharger systems for carbureted applications. Two variations exist, one has a 3 inch inlet and funnels down to 2.75 inches tall, the other has a 3.5 inch inlet that funnels down to 3.25 inches tall. These retail for about $150, feature a single nipple, and mount to 5 1/8" flanged carburetors such as the modern AFB's and Holley 4150's. ATI also produces a bonnet which is exactly the same as the K & N Bonnet (below), the only difference being that it has the logo 'Procharger' instead of the 'K&N' logo.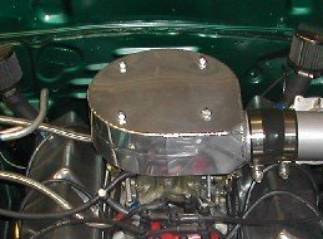 AllTurbos Bonnet
AllTurbos manufactures this custom bonnet for blow through turbo applications and it is claimed to be capable of sustaining up to 30 psi pressure (slightly more than the capabilities of the McCullochs!). High pressures means high prices and this bonnet retails for something in the region of $250. Again this is for the modern Holleys 5 1/8" flange and it apparently is 3 ½ inches tall.
Another modern bonnet manufactured by West Coast Fab, specifically designed to be used with the Holley 4150 but should fit any 5 1/8″ flange. I quite like the look of these but the prices scare me with the unpolished bonnet retailing for $230 and the polished one going for $250. Heavy going – nice looking bonnet though if you are into that sort of thing.
A modern bonnet from the Carb Shop which apparently flows quite well presumably due to it's quite high profile. Dimensions are 4″ high, about 9″ long, inlet opening is 3.100″ i.d., 3.5″ o.d. Again this is for 5 1/8" flange carburetors and is heavily priced being around $250. Users do report good results with this bonnet though.
Extreme Velocity Intake
Another modern bonnet, this one being the Extreme Velocity Intake retailing for $200 from Superior Airflow http://www.superiorairflow.com/. Superior Airflow claim a 45 HP increase at the wheels, on 400 HP plus applications, in comparison to other carb bonnets, and provide dyno results on their website to verify their claims.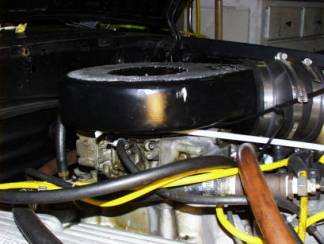 K & N Bonnet
Never in the field of human history as carb bonnet been misused in application as the K & N carburetor bonnet. This was designed to allow the remote mounting of an air cleaner in situations of limited hood clearance, which it does very well. However its general availability and relatively cheap price ($100) hs resulted in it being used in many blow through super and turbo charged applications, which it doesn't do very well. The bonnet seals against the carb and can hold the McCulloch/Paxton pressures, but on the downside it restricts air flow, and results in a notable pressure drop at the carb inlet. Also it's a bit too modern looking for my tastes. Not recommended.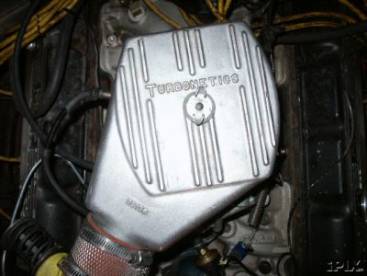 Turbonetics Bonnet
The Turbonetics bonnet mounts 5 1/8" flange carburetor or fuel injection throttle body applications and features a 2 ½" air inlet. Again it is a slimline design which may restrict airflow but does have the benefit in that itc an be used in cases where hood clearance is minimal.
Impco manufacture LPG carburetors, mixers, regulators and vapourizers and also supply bonnets to allow regular carburettors to be converted to dual fuel use. The flange on the bonnet is designed for attaching an Impco mixer but could also be used as a connecting point for the output from a supercharger. I'm not sure about the cost of these bonnets but apparently they are reasonably cheap – somewhere in the region of $100 to $150.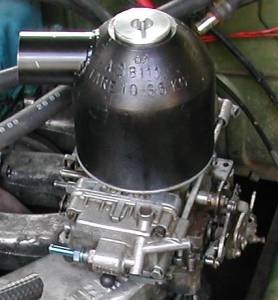 Budget Bonnet
It is of course possible to make your own bonnet, and I particularly like this version based on an old CO2 fire extinguisher and length of stainless tubing made and used by Bigdodgedave. The high entry point and curved shape would probably make this quite efficient in comparison to the many low profile bonnets that are available which have sharp turns within them.