The photo is of a 39/40 McCulloch Supercharger that was recently on sale on the internet (it's sold now I believe). The supercharger needed rebuilding and was minus the manifold, idler and carburetor, but is a useful photo nonetheless as it shows the supercharger in close up. This later model had water heating of the boost output to vapourize the fuel/air charge, as well as engine oil lubrication of the drive gear.
1940 McCulloch Supercharger ( Model 40M)
Josh Zartmann's 1931 Ford 5 window coupe with a 1940 McCulloch Supercharger installed. Josh has now installed a dual Stromberg carburetor set up on the McCulloch using a 'Y' adapter and don't it look great. More pictures of the car, in its single carb form, can be seen on the Hot Rods Forever/Pirates Car Club of Northern Illinois web page.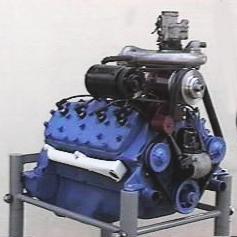 Model 39M
Photo courtesy of H.J.Kopel and shows his 39M McCulloch Supercharger mounted on a Ford Flathead V8, boosting the HP from 85Hp to 115 Hp which made a significant difference on the lightweight Fords of the period. This is actually a show set up and is not installed in any vehicle, with the blower pulley being the only non-original part.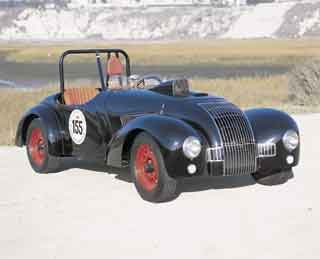 1947 Allard K1 Supercharged Roadster
This roadster recently went to auction (with a reserve of $25,000 to $35,000) and the auction blurb stated: "239 cu. in. L-head V8 with belt driven supercharger, split beam independent front suspension, live rear axle, front and rear tranverse leaf springs three-speed manual transmission, four-wheel drum brakes. Wheelbase: 106". Shipped in 1949 to Salem Enslas in Uruguay, it conjures images of the heroic South American open road races that made heroes of Juan Manuel Fangio, Onofre Marimon and Froilan Gonzales. Discovered some years ago, it found its way to Europe where it participated in the 1993 Mille Miglia Retro, then to the US where it has participated in a number of events and tours. The supercharged flathead V8 was rebuilt at a cost of some $12,000 in 1995. Its McCullough supercharger recalls the great blown Mercedes-Benz racers of the '30s, allowing the driver to exploit the flathead's innate naturally aspirated power and torque in most situations, but utilizing the blower's punch for high speed competitive bursts. The combination of exceptional performance with the flathead V8's characteristic exhaust burble is exhilarating and offers this Allard's driver a unique and rewarding experience." I guess that sums it up pretty well – sure wish I had that kind of money lying around.
This great looking Ford Business Coupe with a later McCulloch and dual carbs was spotted at the Fabulous Fords Forever show in April 2001 by a fellow enthusiast Andre who sent me the photos. Thanks Andre. The car is owned by Steve Sullivan, and if your'e reading this Steve I would love to know more about the car and blower, and sorry for publishing the picture without your permission.
Walt Dupont,s 1940 Ford with a later McCulloch Supercharger. To quote Walt "40 ford with a full race flathead. Put 10k miles on in 2 summers. No trouble installing the blower. The only trouble I've had is a pinging problem. My engine has a lot of mods made to it. I have too much compression, almost 9 to 1 I have to run the best gas at the pumps, and that is expensive nowadays. And I had to recurve my dist. to give a total of about 18degrees advance. I would recommend a ratio of about 7 to 1 with a blower. But it's the greatest thing since the round wheel for a flathead. It's like opening your hood and tossing in 50 hp. And it really smoothes out a rough cam".
It seems that E-Bay is pretty much the main place to pick up McCulloch blowers nowadays, although the competition can get a bit fierce when items like this turn up. I wish I'd kept the details for this early one. Which apart from the missing idler and broken pulley appears to be in pretty good shape.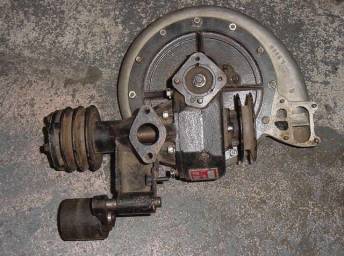 78F85
These great pictures were sent to me by Glenn and shows well the base of the later McCulloch. The scroll housing is no longer cast in two parts through it's midpoint which may have produced an improvement in the airflow (less turbulance). The serial number reads Model 78F85 Serial Number 1260 on a plate titled McCulloch Engineering Co. Milwaukee, Wisconsin. This serial number does not seem to fit in with the standard 37F type notation – any ideas anyone? I really am desperate for a bit of information on these!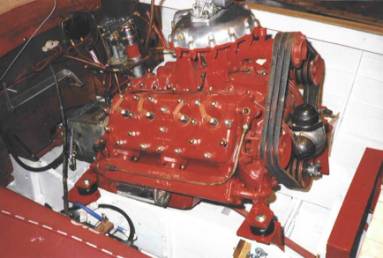 Bob Walters 1934 221 cid Boat
Thanks to Rick Martin for these photos of Bob Walters boat. The boat was built by Terry Haute in 1933/34 and is a one off with a length of 17' 6" and a beam of 5' 6". The engine, as you've probably noticed is a McCulloch blown 221 cid Ford Flathead with a two barrel stromberg carburetor, and a period ¾ cam. Bob estimates that the full time blower produces up to 3-4 psi boost and increases the horsepower from 85 to 112. McCulloch literature of the time actually claimed 124 horsepower, although I'm more inclined to believe Bob, who thinks that the engine is capable of 4400 rpm, although he's only pushed it up to 3600 rpm so far. When he received the boat it had a direct drive, but for ease of operation Bob installed an antique marine transmission that bolted up to the Ford.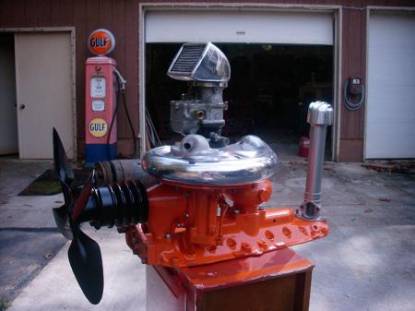 39M
A Real nice 39M setup which has the many improved modifications from the earlier units,including hot water heating of the air output and oil lubrication from the block . Note the water inlet/outlet for the hot water heating, which is used to vapourise the fuel/air charge prior to its entry into the intake.
Displayed in the Don Garlits Drag racing museum in Ocala Florida. I strongly recommend visiting this museum if you are ever in Florida, it's full of rare flathead speed equipment as well as featuring dozens of historic drag cars (Don Garlits cars, Tommy Ivo's twin engined job, etc.,. The card states:- 239 CID, 7:1 Compression, Grancor Cam, 9" Clutch, V-8 L-Head valves, 29T Alum heads, McCulloch blower, 15lb lightened flywheel, 95HP Stock – 150HP supercharged. The Granatelli brothers founded the Grancor company in the early 40's to build speed equipment & engines for the flathead Ford & Mercury engines. This is one of their creations restored in 1989 by Don Garlits.